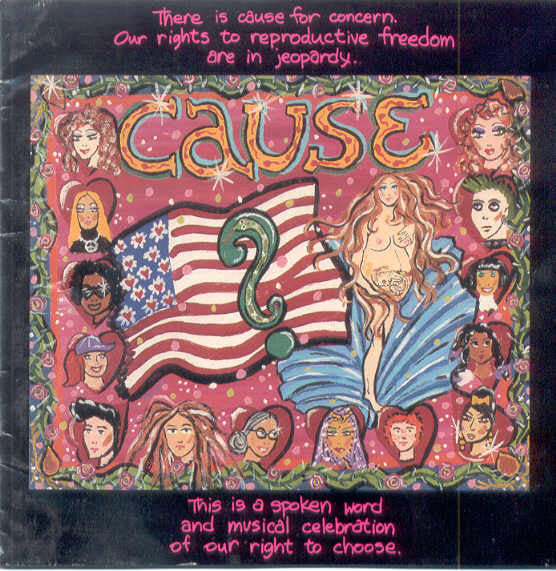 Piece Of Mind Records
Various - Cause (CD, Comp) - USED
---
Released: 1992
Format: CD, Compilation
Sleeve condition: Near Mint
Media condition: Near Mint

Tracklist:
[1] Pie In The Sky
[2] Deep Well
[3] One Million Skies
[4] Sex With The Devil
[5] Protein
[6] She Too
[7] Me And Me
[8] Around The World The Ladies' Way
[9] Family
[10] Lucky Lady
[11] Ain't Nobody's Business
[12] This Is My Body
[13] A Poem
[14] Martini Talk
[15] Caffeine Buzz
[16] Rain Song
[17] She Lay There In Bed Sleeping
[18] Green Monkey
[19] Katomania
[20] Backwords
[21] Elephants
[22] Church Bells Ring
[23] Backdoor Daddy
[24] Bebop
[25] Red Carnations
[26] Hunting
[27] Confession
[28] Love Potion # 10
[29] 99 Cent Store
[30] Art Professor
[31] Buy Music
[32] Thinking Too Much
This is a compilation of Spoken Word-Performances on the subject of abortion and pro-choice, recorded on the "Rock For Choice-Concerts".

"There is a cause for concern, our rights to reproductive freedom are in jeopardy. This is a spoken word and musical celebration of our right to choose."

Rock For Choice:
On january 22, 1973, the US supreme court issued it's landmark ruling in Roe versus Wade, making abortion safe and legal in the United States. Today, the right to a legal abortion has never been more in jeopardy.
In response to this growing threat to personal freedom and in an effort to raise awareness and encourage activism among young adults, the Feminist Majority Foundation and Fund has been organizing Rock For Choice concerts across the country.
The purpose is to encourage audience members to educate themselves, speak out, register to vote, and learn what they can do to protect their right to abortion and birth control. Information tables with voter registration, petitions, and volunteer sign ups are provided at every concert. Proceeds help the Feminist Majority Foundation and Fund continue national pro-choice organizinf efforts, including the Clinic Defense Project.

---
Share this Product