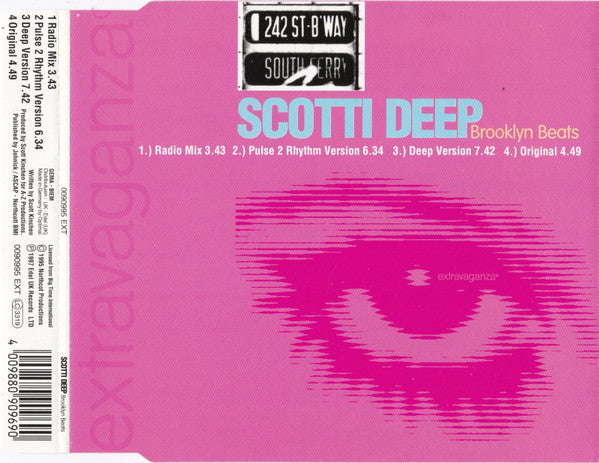 Xtravaganza Recordings
Scotti Deep - Brooklyn Beats (CD, Single) - USED
---
Released: 1997
Format: CD, Single
Sleeve condition: Very Good Plus
Media condition: Very Good Plus

Tracklist:
[1] Brooklyn Beats (Radio Mix)
[2] Brooklyn Beats (Pulse 2 Rhythm Version)
[3] Brooklyn Beats (Deep Version)
[4] Brooklyn Beats (Original)
[5] Brooklyn Beats (Nite Groove Version)
Track 5 is not listed on the insert or CD.

Produced for A-Z Productions
Published by Johnick / ASCAP - Northcott BMI

(C) 1995 Northcot Productions [sic!]
(P) 1997 Edel UK Records LTD

Some copies (if not all) came with an attached sticker with a new barcode and "DISTRIBUTED BY PINNACLE" note. These stickers also featured the spine catalog number "0090995EXT".
---
Share this Product