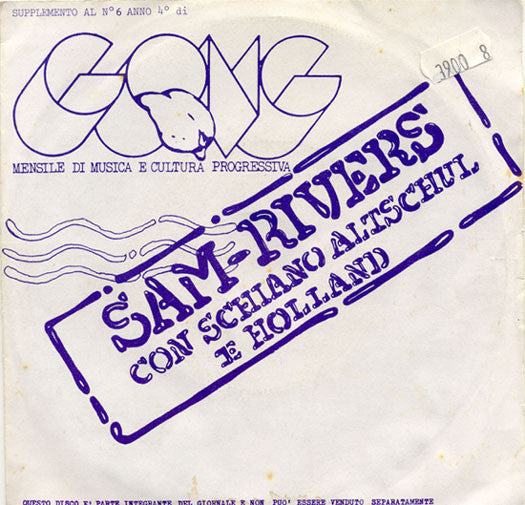 Gong (3)
Sam Rivers Con Schiano*, Altschul* E Holland* - Sam Rivers Con Schiano Altschul E Holland (7") - USED
---
Released: 1977
Format: Vinyl, 7", 33 ⅓ RPM
Sleeve condition: Very Good Plus
Media condition: Very Good Plus

Tracklist:
[A1] Brother Sam
[A2] Earth Dance
[B1] Vision
[B2] Tudgement
[B3] Hope
Special edition enclosure with Italian magazine "Gong - Mensile di Musica e Cultura Progressiva", N° 6 ANNO 4°.

First catalogue number on sleeve.
Second catalogue numbers on labels

Questo disco è parte integrante del giornale e non può essere venduto separatamente - This disk is an integral part of the magazine and can not be sold separately

Track B2 seems to have a tiping error, track's name printed is "Tudgement" instead of "Judgement".

---
Share this Product