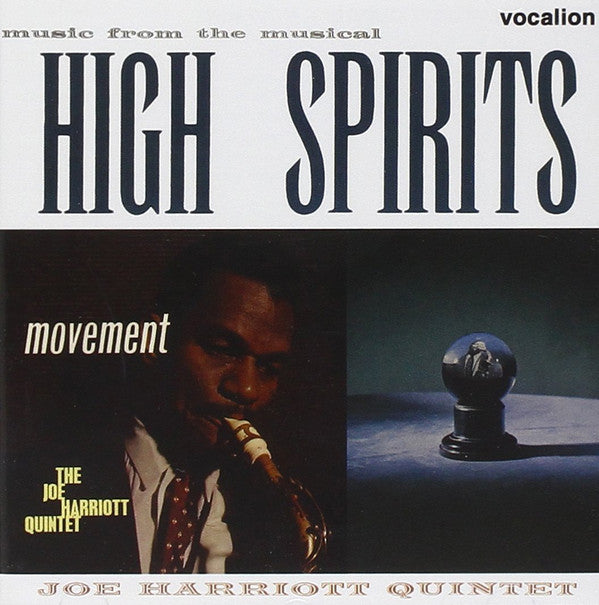 Vocalion
Joe Harriott Quintet - Movement / High Spirits (CD, Album, RE, RM + CD, Album, RE, RM + Comp) - NEW
---
Released: 2012
Format: CD, Album, Reissue, Remastered

Tracklist:
[] Movement
[1-1] Morning Blue
[1-2] Beams
[1-3] Count Twelve
[1-4] Face In The Crowd
[1-5] Revival
[1-6] Blues On Blues
[1-7] Spaces
[1-8] Spiritual Blues
[1-9] Movement
[] High Spirits
[2-1] Home Sweet Heaven
[2-2] If I Gave You
[2-3] Go Into Your Trance
[2-4] You'd Better Love Me
[2-5] I Know Your Heart
[2-6] Was She Prettier Than I?
[2-7] Forever And A Day
[2-8] Something Tells Me
Compilation of two albums: "[r=714000]" (1963) and "[r=4296577]" (1965), on CD for the first time.
Both LPs were originally issued in mono only; however, this reissue has been sourced from the stereo master tapes. The original albums were part of the [l=Lansdowne Series].

Disc 1: Recorded in London, 1963.
Disc 2: Recorded in London, September 1964.

Remastered from the original master tapes.

Made in Austria. Printed in Austria.
© ℗ Vocalion Ltd 2012.
Licensed from Universal Licensing Division, a division of Universal Music Operations Limited.

---
Share this Product