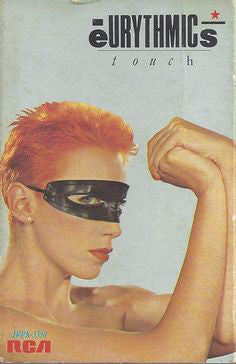 RCA
Eurythmics - Touch (Cass, Album) - USED
---
Released: 1983
Format: Cassette, Album
Sleeve condition: Near Mint
Media condition: Very Good Plus

Tracklist:
[A1] Here Comes The Rain Again
[A2] Regrets
[A3] Right By Your Side
[A4] Cool Blue
[A5] Who's That Girl?
[B1] The First Cut
[B2] Aqua
[B3] No Fear, No Hate, No Pain (No Broken Hearts)
[B4] Paint A Rumour
[On inner sleeve:]
Strings - with special thanks to Sid Sax.
Art & Design - with thanks to Andrew Christian.

All songs published by RCA Music Ltd.

Recorded & mixed on Soundcraft.
Printed in W. Germany.

℗ 1983 RCA Ltd.

[On back sleeve:]
Belgique/Belgie: Distributed by RCA S.A.
Deutschland: Vertrieb durch RCA Schallplatten GmbH
France: Distribué par RCA S.A.
Italia: Distributed by RCA S.p.A.
Nederland: Distributed by RCA B.V.
U.K.: Distributed by RCA Ltd.
Manufactured in W. Germany.

Sleeve © 1983 RCA Ltd.

© 1983 RCA Records • Printed in W. Germany

DMM® - Direct Metal Mastering
® TELDEC

[On spine:]
RCA Ⓢ PL70109

This first issue of the album shows on the back the second format on which it was issued: the cassette. Subsequent reissue shows the CD as third format.

Some copies were issued with a round sticker advertising the hit singles "Who's That Girl?" and "Right By Your Side" as well as a sticker advertising tour dates. Some were issued with just one of these stickers.

[url=http://www.discogs.com/release/8139481]A slightly different issue[/url], with "SB." printed on back sleeve as german distribution code, exists.
---
Share this Product