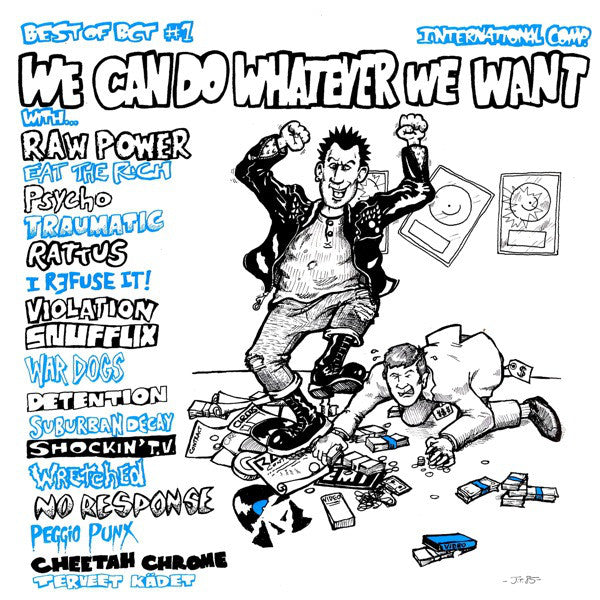 BC Tapes & Records
Various - We Can Do Whatever We Want (International Comp.) (LP, Album, Comp) - USED
---
Released: 1986
Format: Vinyl, LP, Album, Compilation
Sleeve condition: Near Mint
Media condition: Near Mint

Tracklist:
[] A Side
[A1] Police, Police / Destroy
[A2] Racist Money
[A3] Fuck Authority (Live)
[A4] You're A Waste Of Human Space
[A5] Bored
[A6] Red Riot (Live)
[A7] No Way (Live)
[A8] Last Kids From Nowhere (Live)
[A9] World Without Hate
[A10] Ugly Corpses
[A11] Chocu Umeret (Live)
[A12] Bomb Threat
[A13] Shut Up & Gimme
[A14] Scenic View (Live)
[A15] I Hate (The Families) (Live)
[] Another Side
[B1] El Salvador (Live)
[B2] Dead Rockers (Live)
[B3] 715
[B4] Spazi Di Potere (Spaces Of Power)
[B5] Strange Land
[B6] Uniti Sempre (United Forever)
[B7] Nessun Diritto (No Right)
[B8] Ti Obbligano Ad Obbedire (They Force You To Obey)
[B9] Fuck Allegiance
[B10] Rumori (Noises)
[B11] Non Siamo Come Voi (We're Not Like You)
[B12] Linea Diritta (Straight Line)
[B13] Tellyson
[B14] Foe Or Friend (Live)
Tracks A11, B7 and B13 are wrongly titled on back cover and labels, correct ones are listed here.
Compiled from the first 11 '[l=Bad Compilation Tapes]' cassettes.

Mastertape recording done at Radio Tokyo, Venice.
Additional mastering done at Don's Cassette's.
Typeset done on UNIX at UCSD.

Printed insert with BCT catalog and some of the lyrics included.

Total duration for side A: 20:21.
Total duration for side B: 16:22.

1700 copies pressed on black vinyl (this version).
300 copies were pressed on blue vinyl for mailorder.

Also [url=http://www.discogs.com/Various-We-Can-Do-Whatever-We-Want-Best-Of-BCT-1/release/2377907]issued[/url] in Germany on Starving Missile with a bonus track by [a=White Flag].

Note on backcover says: "This album is dedicated to [a=D. Boon]".

All rights belong to the individual bands.

© 1986 BCT&R.
---
Share this Product