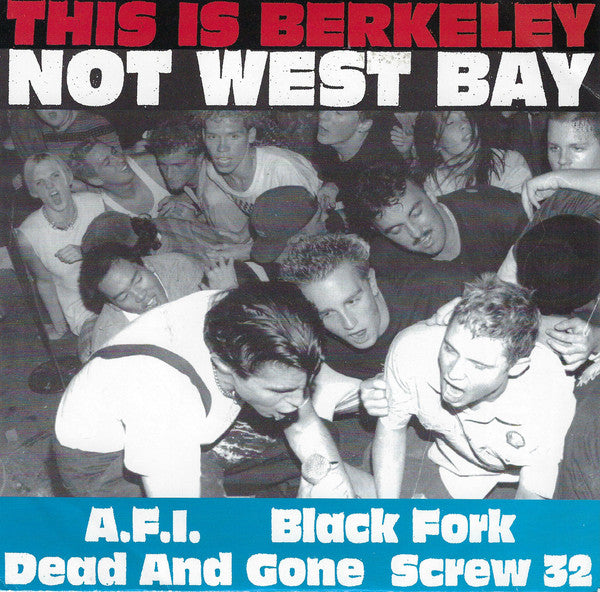 Zafio Records
Various - This Is Berkeley Not West Bay (7", Comp) - USED
---
Released: 1994
Format: Vinyl, 7", Compilation
Sleeve condition: Near Mint
Media condition: Near Mint

Tracklist:
[A1] People's Parking Lot
[A2] Desperate
[B1] Love Is A Many Splendored Thing
[B2] Bandwagon
Compilation of East Bay hardcore bands. Based on the [m=54324] LP on Modern Method Records.

Foldover sleeve with Band info and lyrics printed inside.

Track A2 recorded live (un-mixed), April 1994 on WFMU, New Jersey.

• A compilation EP which includes the AFI track "Love Is A Many-Splendored Thing" which was recorded during AFI's first Art Of Ears sessions. Features guest vocals by Tim Armstrong who, along with Brett Reed, is credited as the track's producer.

• The session from which "Love Is A Many Splendored Thing" is taken, included five additional tracks. Two of the five additional recordings, "Half-Empty Bottle" and "Your Name Here", were used on the "Answer That And Stay Fashionable" album. Alternate versions of "I Wanna Get A Mohawk", "Yürf Rendenmein" and "Kung Fu Devil" (with different lyrics) from this session remain unreleased.

• Audio for AFI's set at the record release show for "This Is Berkeley Not West Bay" exists from a soundboard recording made at this show. The soundboard recording remains unreleased. Video footage of AFI's set from this show also exists and circulates among collectors.



---
Share this Product