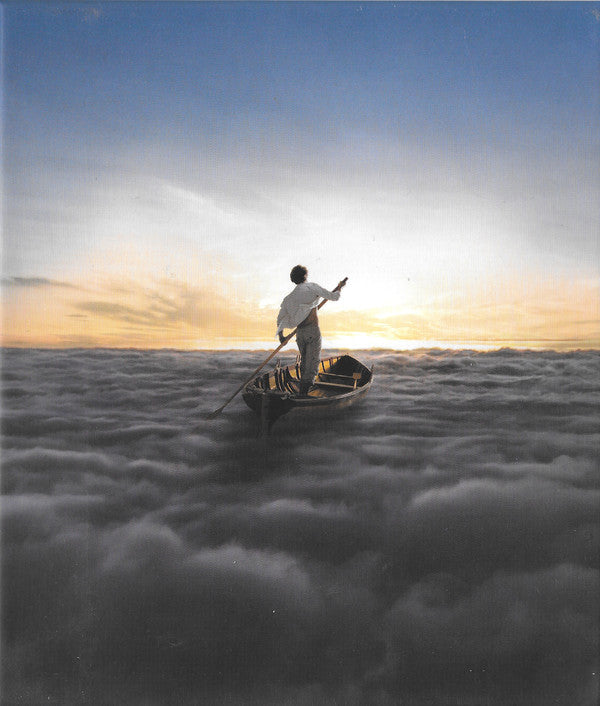 Parlophone
Pink Floyd - The Endless River (CD, Album + DVD-V, Multichannel + Box, Dlx) - USED
---
Released: 07 Nov 2014
Format: CD, Album
Sleeve condition: Near Mint
Media condition: Near Mint

Tracklist:
[] Side 1
[CD-1] Things Left Unsaid
[CD-2] It's What We Do
[CD-3] Ebb And Flow
[] Side 2
[CD-4] Sum
[CD-5] Skins
[CD-6] Unsung
[CD-7] Anisina
[] Side 3
[CD-8] The Lost Art Of Conversation
[CD-9] On Noodle Street
[CD-10] Night Light
[CD-11] Allons-y (1)
[CD-12] Autumn '68
[CD-13] Allons-y (2)
[CD-14] Talkin' Hawkin
[] Side 4
[CD-15] Calling
[CD-16] Eyes To Pearls
[CD-17] Surfacing
[CD-18] Louder Than Words
[] Album In 5.1 Surround And Stereo
[] The Endless River
[] Audio-Visual
[DVD-19] Anisina
[DVD-20] Untitled
[DVD-21] Evrika (A)
[DVD-22] Nervana
[DVD-23] Allons-y
[DVD-24] Evrika (B)
[] Audio Bonus Tracks
[DVD-25] Tbs9
[DVD-26] Tbs14
[DVD-27] Nervana
2-DISC BOXED SET
Box includes 24-page photo/credit booklet in hard cover, including previously unseen photographs from 1993 sessions
CD in full colour card wallet with full colour label
DVD (NTSC) in full colour card wallet with full colour label
3 x Collectors' full colour postcards, one of which with 3D Lenticular design
DVD contains 'The Endless River' album in 5.1 Surround (Dolby Digital and DTS), plus stereo version in 48kHz /24 bit
PLUS EXTRA non-album audio-visual material (approx. 39 minutes): 6 video tracks and 3 audio tracks, unavailable elsewhere
Includes archive video material and still photographs shot at the original 1993 recording sessions

[url=https://www.discogs.com/Pink-Floyd-The-Endless-River/release/6267237#images/15468696]Printed on front cover sticker[/url]:
"PINK FLOYD
ENDLESS RIVER
Deluxe 2-DISC SET
CD + DVD includes:
Album 5.1 mix and Stereo
Plus non-album material (39 min. approx)
6 video tracks + 3 audio tracks
24-page deluxe hardback booklet
3 collectors' postcards
Stereo PCM, 5.1 Dolby Digital and 5.1 DTS
All audio in 48kHz/24bit
Archive video material from standard
definition source
825646213344"
---
Share this Product