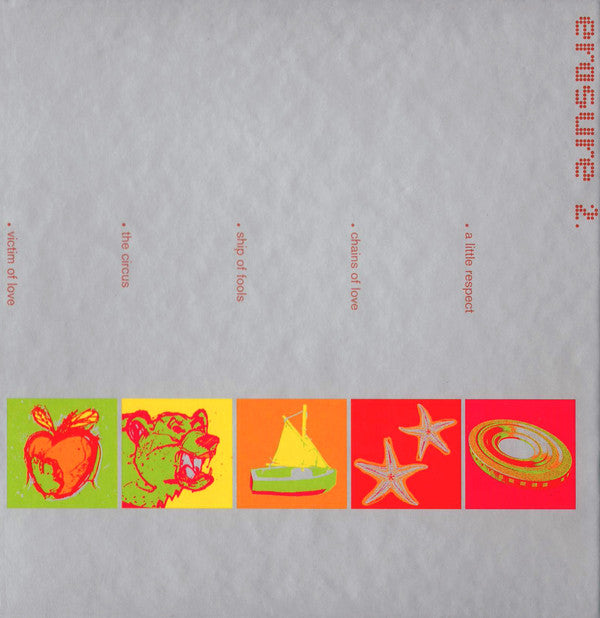 Mute
Erasure - 2. Singles (Box, Comp, RM + CD, Single, RE + CD, Single, RE + ) - USED
---
Released: 13 Dec 1999
Format: Box Set, Compilation, Remastered
Sleeve condition: Near Mint
Media condition: Near Mint

Tracklist:
[] Victim Of Love
[1-1] Victim Of Love (Remix)
[1-2] The Soldier's Return
[1-3] Victim Of Love (Extended)
[1-4] The Soldier's Return (The Return Of The Radical Radcliffe Mix)
[1-5] Victim Of Love (Dub Mix)
[1-6] Victim Of Love (Vixen Vitesse Mix)
[1-7] The Soldier's Return (The Machinery Mix)
[1-8] If I Could (Japanese Mix)
[1-9] Don't Dance (Live)
[1-10] Leave Me To Bleed (Live)
[] The Circus
[2-1] The Circus (Remix)
[2-2] The Circus (Decay Mix)
[2-3] Safety In Numbers (Live)
[2-4] Victim Of Love (Live)
[2-5] If I Could (Live)
[2-6] The Circus (Live)
[2-7] Spiralling (Live)
[2-8] It Doesn't Have To Be (Live)
[2-9] Who Needs Love Like That (Live)
[2-10] Gimme! Gimme! Gimme! (Live)
[2-11] Sometimes (Live)
[2-12] Say What (Live)
[2-13] Oh L'Amour (Live)
[2-14] The Circus (Bareback Rider Mix)
[2-15] The Circus (Gladiator Mix)
[] Ship Of Fools
[3-1] Ship Of Fools
[3-2] When I Needed You
[3-3] Ship Of Fools (Shiver Me Timbers Mix)
[3-4] River Deep Mountain High (Warm Depths Mix)
[3-5] When I Needed You (Melancholic Mix)
[3-6] Ship Of Fools (RC Mix)
[3-7] River Deep Mountain High (Private Dance Mix)
[] Chains Of Love
[4-1] Chains Of Love (Remix)
[4-2] Don't Suppose
[4-3] Chains Of Love (Foghorn Mix)
[4-4] Don't Suppose (Country Joe Mix)
[4-5] The Good, The Bad And The Ugly
[4-6] Chains Of Love (Truly In Love With The Marks Brothers Mix)
[4-7] The Good, The Bad And The Ugly (The Dangerous Mix)
[] A Little Respect
[5-1] A Little Respect
[5-2] Like Zsa Zsa Zsa Gabor
[5-3] A Little Respect (Extended Mix)
[5-4] Like Zsa Zsa Zsa Gabor (Mark Freegard Mix)
[5-5] Love Is Colder Than Death
[5-6] A Little Respect (Big Train Mix)
[5-7] Like Zsa Zsa Zsa Gabor (Rico Conning Mix)
A second edition of the box was released in 2001.

This compilation
℗and© 1999 Mute Records Ltd
Made in Great Britain

Live tracks on CD1 recorded live at Brighton Dome, 17th April 1987
Live tracks on CD2 recorded live at Knopf Music Hall, Hamburg (Germany), 27th/28th April 1987.

Catalog# in title on box: ebx2
Catalog# on front of booklet: ebx 2

Track 2-2 a previously unavailable version with a longer ending when compared to other releases with the same "Decay Mix" title.
---
Share this Product