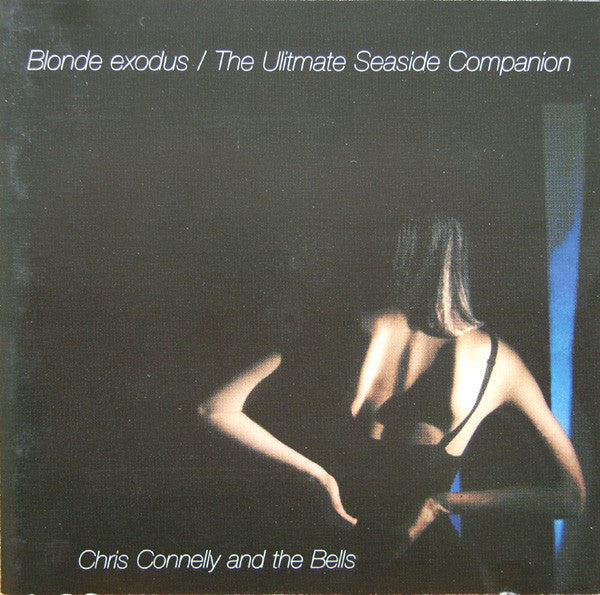 Dream Catcher
Chris Connelly And The Bells - Blonde Exodus / The Ultimate Seaside Companion (CD, Album, RE + CD, Album, RE + Comp) - NEW
---
Released: 2001
Format: CD, Album, Reissue

Tracklist:
[] Blonde Exodus
[1-1] Generique
[1-2] London Fields
[1-3] Diamonds Eat Diamonds
[1-4] Blonde Exodus I
[1-5] Twilight Shiner
[1-6] Blue Hooray
[1-7] Magnificent Wing
[1-8] The Long Weekend
[1-9] Julie Delpy
[1-10] Blonde Exodus II
[1-11] Closing Titles
[1-12] Blonde Strings
[1-13] Moonlight Feels Right
[] The Ultimate Seaside Companion
[2-1] The Fortune
[2-2] Mississippi Palisades
[2-3] My East Is Your West
[2-4] Stray
[2-5] Empty Sam
[2-6] No More Changing Of The Guard
[2-7] Island Head
[2-8] Toledo Steel
[2-9] Caravan
[2-10] To Play A Show Game
[2-11] The Ultimate Seaside Companion
[2-12] The Fortune II
[2-13] Chorus Of Eyes
[2-14] Thunderland Reel
[2-15] No More Changing Of The Guard (Live)
[2-16] The Fortune (Live)
Comes in a 2-CD jewel case with a 4 panel folder.

BLONDE EXODUS:
All tracks recorded and mixed at Chicago Recording Company, Autumn 1998 except "Diamonds eat Diamonds", "Twilight Shiner" and "Moonlight Feels Right" recorded at Chris Bruce's Studio. Mastered at A.S.I.
Dedicated to William Tucker.
Track 1-12: Exclusive to European release only.

THE ULTIMATE SEASIDE COMPANION:
Studios: Chris Bruce's/Chicago, Steam Room/Chicago, Soundhouse/Seattle, Blue Room/Seattle, Rieflin's Parents' house/Seattle.
Recorded 1995-1997.
Live tracks recorded at Lounge Ax, Chicago, April of 1998. "Chorus of Eyes" and "Thunderland Reel" are outtakes from the Seaside Companion sessions, recorded at Blue Room in Seattle, July 1996. Album and bonus material digitally remastered at Alien Soundscapes, June 2000. Songs published by Spurburn Music (BMI) except 1, 4, 12, 16 by Spurburn/Happy Beaver (BMI).
For J. M.

© 2000 - Chris Connelly ℗ 2000 - Spurburn (BMI). (insert)
℗ 2001 Dream Catcher © 2001 Dream Catcher. (back cover)
Distributed by Pinnacle.
Made in England.


---
Share this Product