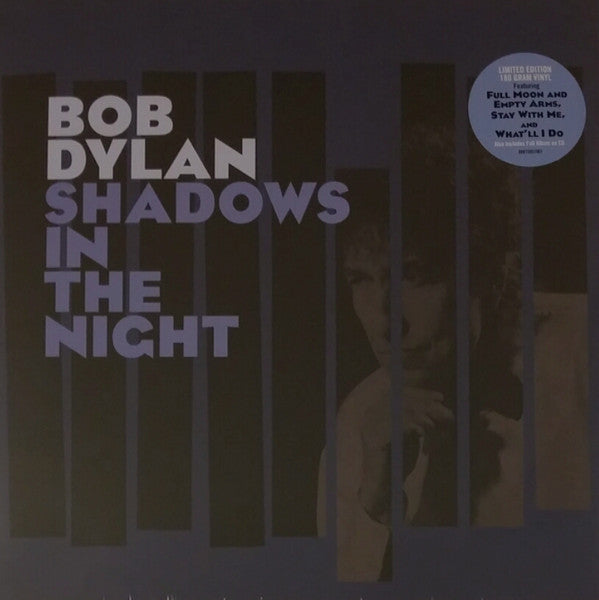 Columbia
Bob Dylan - Shadows In The Night (LP, Album, Ltd + CD, Album) - USED
---
Released: 2015
Format: Vinyl, LP, Album, Limited Edition
Sleeve condition: Very Good Plus
Media condition: Very Good Plus

Tracklist:
[A1] I'm A Fool To Want You
[A2] The Night We Called It A Day
[A3] Stay With Me
[A4] Autumn Leaves
[A5] Why Try To Change Me Now
[B1] Some Enchanted Evening
[B2] Full Moon And Empty Arms
[B3] Where Are You?
[B4] What I'll Do
[B5] That Lucky Old Sun
[CD1] I'm A Fool To Want You
[CD2] The Night We Called It A Day
[CD3] Stay With Me
[CD4] Autumn Leaves
[CD5] Why Try To Change Me Now
[CD6] Some Enchanted Evening
[CD7] Full Moon And Empty Arms
[CD8] Where Are You?
[CD9] What I'll Do
[CD10] That Lucky Old Sun
Front sticker:
Limited edition
180 gram vinyl
Featuring
Full Moon And Empty Arms, Stay With Me, And What'll I Do
Also includes Full Album on CD
88875057961

© & ℗ 2015 Columbia Records, a division of Sony Music Entertainment.
Made in the EU.
Sony Music Entertainment International Services GmbH [...], Gütersloh, Germany.
---
Share this Product